121 MINING INVESTMENT — OCTOBER 17-18, 2019 — NEW YORK, USA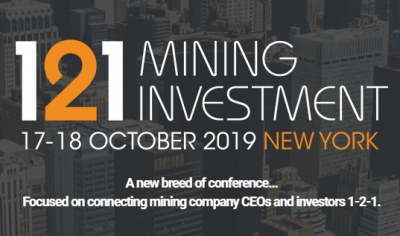 Joe will be attending the 121 Mining Investment conference where senior investors from institutional funds, private equity groups, family offices and sector analysts will meet with carefully selected mining company management teams in the world's capital of finance. Featuring cash-generating producers, near-production development companies, project generators and exciting exploration projects, the event this October offers investors the perfect forum to seek out their next big mining investment opportunity.
Joe's schedule is as follows:
Day 1 — 11:00am — Exploration Panel: Characterising the mindset of successful junior exploration investors
Day 2 — 11:00 — Analyst briefing: The changing ecosystem for financings in the junior mining sector
For more details and to register, use the link at the bottom or click on the banner.