Mines and Money Online Connect JAN2021 — January 26-29, 2021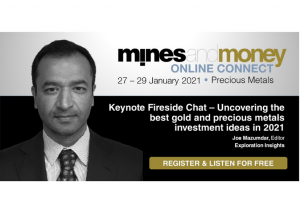 Mines and Money Online Connect brings together miners, investors, financiers, and industry professionals to network, hear market analysis, compare investment opportunities, share knowledge, discuss, debate and most importantly do business, all in a virtual and online format.
The 3-day event offers investors and senior management teams of mining companies the opportunity to continue to connect, meet and discuss project updates and share presentations virtually.
As the events are online, attendees are not constrained by geographic bounds, so you will benefit from a truly international audience with a large investor base from the Americas, APAC investors from Hong Kong, China, Singapore, Japan, and Australia; and EMEA investors from the UK, Europe, Middle East, and Africa.
I will join the line up of speakers with my Keynote Fireside Chat "Uncovering the best gold and precious metals investment ideas in 2021". Register your free pass to listen to the presentation.
#MinesandMoney #InvestMining