Mines and Money Virtual Networking Event — Keeping the conversation going within the mining investment community in this changed environment — Tuesday June 30th, 5:00 pm BST (9:00 am PST)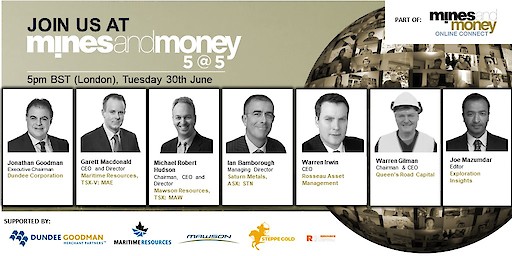 Join Joe for virtual networking online on Tuesday 30th June at 5pm BST for a 5@5 virtual networking event part of the Mines and Money EMEAmericas Online event running from 30 June to 2 July.
Dundee Corporation's Executive Chairman Jonathan Goodman will be hosting a conversation with Joe, Garett Macdonald, Chief Executive Officer and Director, Maritime Resources TSX-V: MAE, Michael Robert Hudson, Chairman, CEO and Director, Mawson Resources: TSX: MAW, Ian Bamborough, Managing Director, Saturn Metals ASX: STN, Warren Irwin, Chief Executive Officer, Rosseau Asset Management, and Warren Gilman, Chairman & Chief Executive Officer, Queen's Road Capital.
This is a free event that will include a market update, project showcases and a look at what investors are currently looking for in this changed market. You'll be able to interact with the panel and take part in a live chat with all the other attendees from around the globe. Bring your cup of tea, wine or beer and let's make this feel like a real networking event – don't forget to turn your webcam on!