Sprott Natural Resource Symposium — July 17-20, 2018 — Fairmont Hotel Vancouver, Canada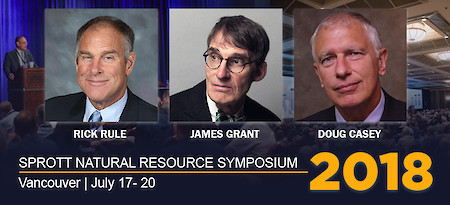 Brent will be a speaker once again at this annual event which, according to Rick Rule, is "The absolutely best place to find the world's most knowledgeable, seasoned experts and most valuable companies in the resource industry."
Tuesday, July 17:
Exploration Panel Discussion (time TBD)
Prospect Generator Panel (time TBD)
Thursday, July 19:
General Session: "Believe it or Not—Times are good in the exploration sector. But you better be careful!" (time TBD)
Workshop: "Due diligence tips and Q&A on your favorite companies" (time TBD)
For details and to register, follow the event link below or click on the banner.