Dr. Copper and Mr. Tariff
by Joe Mazumdar
The term "Dr. Copper" is used to describe the uncanny ability of this highly conductive metal to pick turning points in the global economy. In the early 2000s, when I was working as a market analyst for Phelps Dodge—a major copper producer later acquired by Freeport McMoRan (FCX.NYSE)—one of my main tasks was to forecast the copper price. The fundamentals behind copper demand at the time were strongly underpinned by industrial production, and demand growth was led by the Chinese economy.
The copper price was ~C$3.30 per pound at the end of 2017 and is currently trading down 7% at C$3.07 per pound. The top themes that CRU analysts think will drive medium to long term copper market imbalances are demand for electric vehicles and renewable energy, combined with stagnating mine supply generating market deficits, (Fig. 1).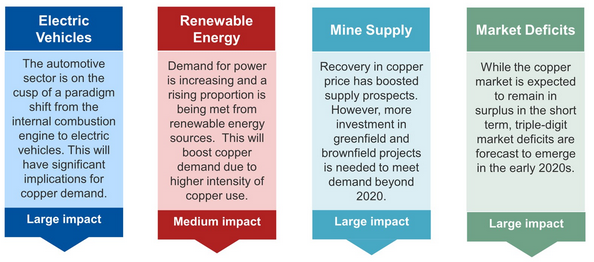 In the long term (beyond 2025) analysts have forecast that copper demand will be positively impacted by the penetration of battery-only electric vehicles (BEV) into the transportation market, specifically driven by mandated changes in large economies such as China, (Fig. 2).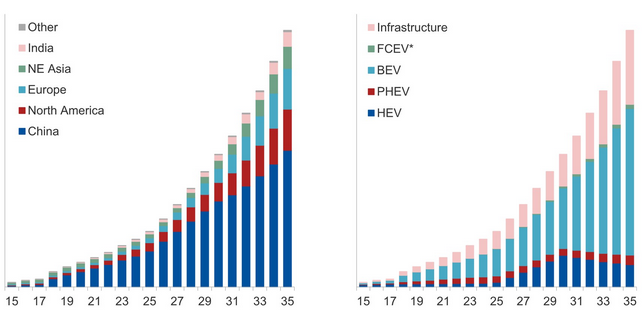 Growth in copper demand for infrastructure is related not only to rehabilitating aging infrastructure in developed markets but also to the growth of renewable energy facilities such as solar and wind power plants. We drove past a few large solar farms on the trip to northern Chile to visit some projects, (Fig. 3).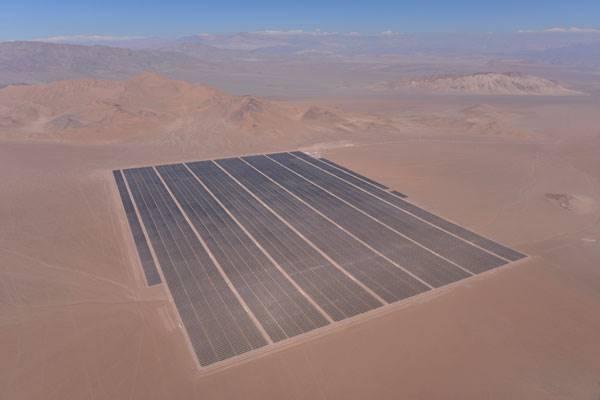 Slow copper growth dependent on risky jurisdictions
From the beginning of the twenty-first century until 2011, copper supply grew at an annualized rate of 1.5 to 1.8%, (Fig. 4). It picked up steam from 2011 to 2016 (4.7% rate) which, combined with weak demand, put downward pressure on the copper price (55-60% fall from ~US$4.50/lb to ~US$2.00/lb). In the near future (2016 to 2022), right before the predicted jump in demand from EV sales, copper supply is forecast to stagnate to a pace of just over 1.0% per year.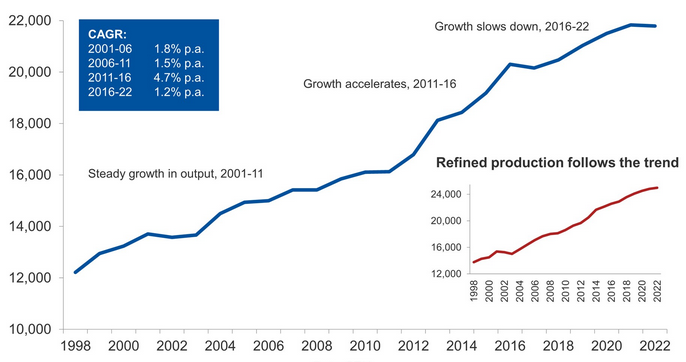 Not unlike gold, the copper sector has seen a steady drop in head grades over the past 15 years, (Fig. 5). Copper is a cyclical industry and acquiring assets that are in the lower quartile cost bracket is important for long term players. Therefore, exploring for projects with higher grades in mining friendly jurisdictions such as Chile, Peru, and Mexico should be a high priority.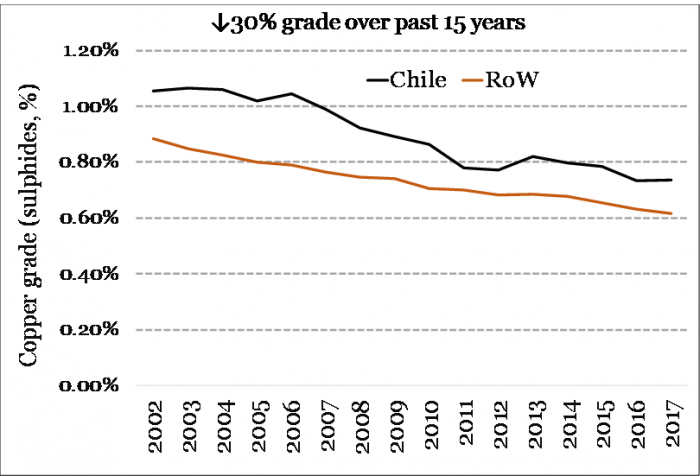 The geographic distribution of funds for global copper exploration heavily favors Latin America during times of low copper prices (40-50%), when the capacity to take on more risk by investing in less stable geopolitical jurisdictions is limited. Conversely, during periods of buoyant copper sentiment and higher prices, Latin America falls to about a third of the global total, giving up part of its share to less stable jurisdictions.
Over the next several years, a significant amount of growth in copper supply is predicated upon the success of projects in the following geopolitically risky jurisdictions, (Fig. 6):
Democratic Republic of Congo (DRC) - hosts high-grade copper projects such as Kamoa-Kakula; however, it is introducing a new mining code with higher royalties

China - tends to be a higher source of demand than supply

Zambia - hit First Quantum Minerals (FM.T) with an US$8 billion tax bill in March 2018

Indonesia - Newmont Mining (NEM.NYSE) gladly extricated itself from the unstable country through the sale of Batu Hijau

Russia - is still Russia

Ecuador - just let go its Mining Minister, Javier Córdova

Mongolia - handed Turquoise Hill (TRQ.T, TRQ.NYSE), the operator of Oyu Tolgoi, a tax bill for US$155 million in January 2018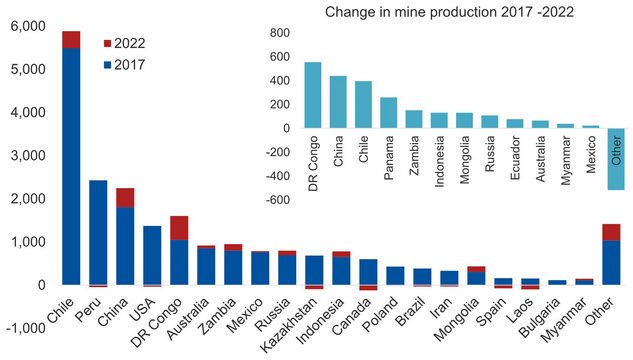 Copper exploration mainly funded by majors
It is important for current and potential investors in junior copper projects to understand the trends in exploration expenditures. Total expenditures (including grassroots or greenfields, advanced, and brownfields) grew at a healthy rate of 40-50% per year from 2003 to 2008 and again from 2009 to 2012 to a peak of over US$4.5 billion, interrupted by a significant drop during the Global Financial Crisis, (Fig. 7). Subsequently, they fell about 25% per year from 2012 to 2016 until the negative trend was arrested in 2017.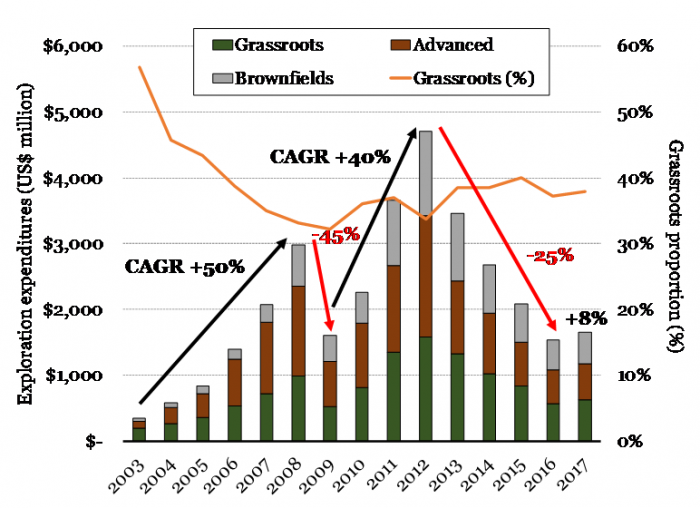 Concerning the proportion of exploration expenditures directed towards grassroots, (Fig. 7, orange line), the copper sector has been more resilient than the gold sector, which has seen a secular decline of budgets aimed at grassroots efforts from 50% to just over 20% of the total since 2003. Grassroots expenditures for copper hit a low of just over 30% of the total during the 2008-09 global crisis but have since rebounded to just under 40%. Again, in contrast to the gold sector, the majority of copper exploration expenditures are funded by majors or producers, (Fig. 8).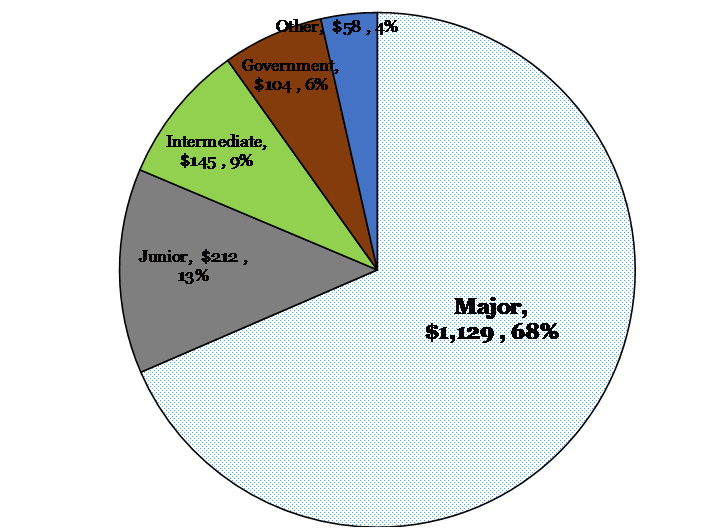 A review of 2017's global expenditures on copper exploration by a group of producers representing ~60% of the total shows that on average these producers spent about 30% of their annual budget on grassroots exploration, (Fig. 9). The average is skewed somewhat by the contributions from large diversified companies like, Rio Tinto (RIO.NYSE, RIO.LSE, RIO.ASX), Vale (VALE.NYSE), and Freeport McMoRan (FCX.NYSE), which spent anywhere from 50 to 80%. The companies spending over 30% of their budgets on grassroots are obviously clued in to the fact that the only way to find high grade deposits is to look for new ones.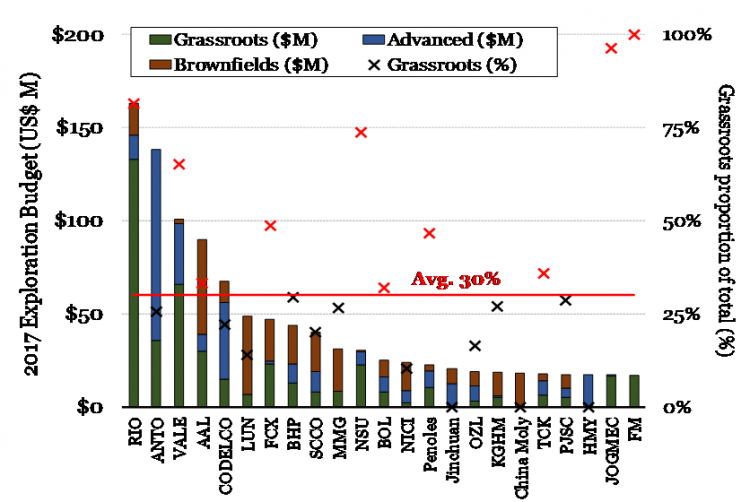 Summary
Ultimately, we remain keen on copper. After doing our homework, we arrive at the following conclusions that will guide our investments in copper plays in the upcoming months:
despite the lackluster short-term forecast for copper on the back of recent news of trade wars and tariffs, we remain positive on the market in the medium and long term as it will be supported by growing demand from the electric vehicles sector and stagnating reserve growth,

exploration, specifically grassroots, is required to arrest the negative grade trend and to find lower-quartile-cost copper deposits,

overall, commitment to grassroots exploration in the copper industry is better than in the gold sector,

given the significant repositories of base metals in Latin America and the mining friendly nature of countries like Chile, Peru, and Mexico, it is no surprise that current exploration efforts favor this region,

well-funded major producers are spending the most on exploration, with an average of ~30% allocated to grassroots programs,
companies with lower grassroots budgets will likely be attracted to M&As, joint ventures, and earn-ins similar to those seen in the gold sector.