March 12, 2021
Market update - Gold yields to long-term bonds
by Joe Mazumdar
In the past few weeks, we witnessed the critical relationship between long-term inflation-adjusted U.S. treasuries' (10-yr TIPS) yields and the gold price in action, and why this phenomenon has become the focus of investors' demand (ETFs).
Gold fell significantly (US$180/oz) as the yield on the 10-yr TIPS rose 120 basis points (bps) to 0.60% in March 2020, when the pandemic took a foothold in North America, only to rebound 35-40% to a nominal all-time high of US$2,069 per ounce in early August when rates fell over 60 bps to -1.0%, (Fig. 1). A recent spike in the 10-yr TIPs (+40 bps) broke through gold's support level of US$1,700 per ounce.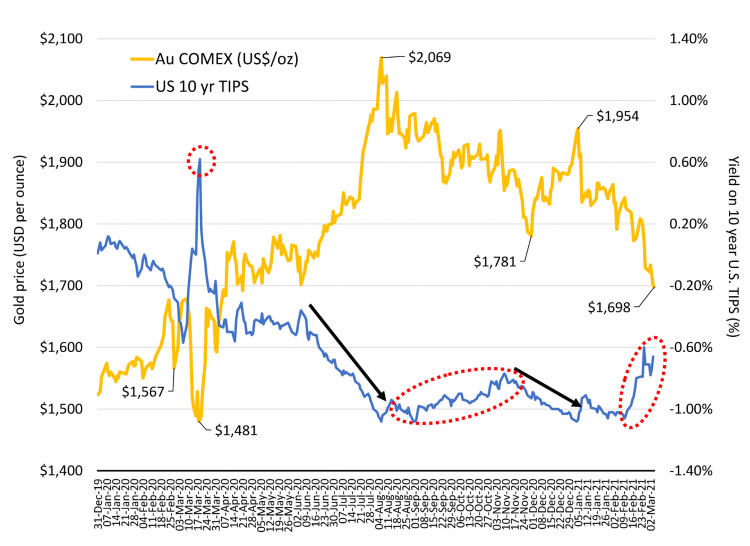 The spike in long-term bond yields was underpinned by higher inflationary expectations, now forecast to exceed the implied rate derived from the US 10-year TIPS' rate (3% vs. <2%).
The US Federal Reserve Chairman recently said that "the economy is a long way from our employment and inflation goals, and it is likely to take some time for substantial further progress to be achieved. Therefore, it appears that the Federal Reserve will keep rates low for at least another 9-12 months. But the market is definitely not in agreement with the Chairman, (Fig. 2).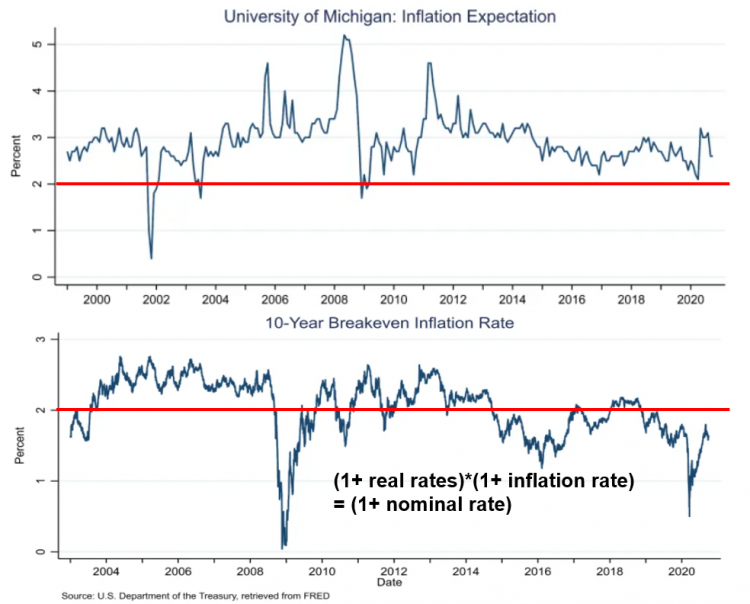 Q4/20 gold demand was the lowest in over a decade
According to the World Gold Council, quarterly demand for gold has averaged ~35 million ounces over the past decade, (Fig. 3). When yields spiked in the final quarter of 2020, it reached its lowest level (~25 Moz) since the Global Financial Crisis of 2008.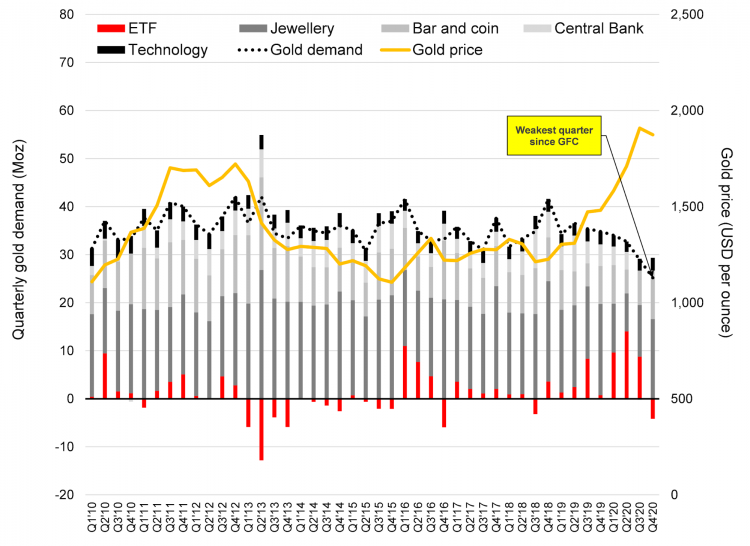 Although jewelry manufacturing accounts for about half of the global demand, investment products/securities (ETF) have become the marginal demand that drives the gold price up or down.
ETF demand, which can be negative, was as high as 40-45% in Q2/20. The tide turned by the end of the year with the first quarterly net outflow in more than two years triggered by the jump in bond yields. Outflows continue to date as ETF demand is down 6% year-on-year in 2021, led by US funds.
Mine supply rebounded in the final half of 2020
The average quarterly global gold supply is 36 million ounces, with 26 million or ~70% sourced from mining, (Fig. 4).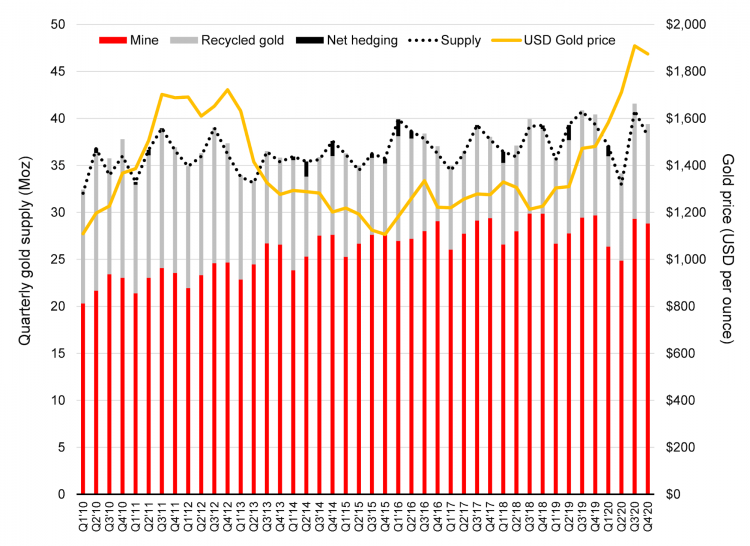 The COVID-19 pandemic dropped mining production to under 25 million ounces in Q2/20, but it recovered quickly to 28 million ounces on average in the second half of the year. Over the same period, recycled gold averaged 11.4 million ounces (+1 Moz than the decade average) to take advantage of the higher gold price.
Production shortfalls offset by higher prices
The shortfalls in mining production were more than offset by a higher realized gold price in 2020 for precious metal companies, (Fig. 5). The average gold price was up 24-25% year-on-year, from US$1,435 to US$1,786 per ounce. Meanwhile, the individual companies' realized gold prices increased between 25 and 28%.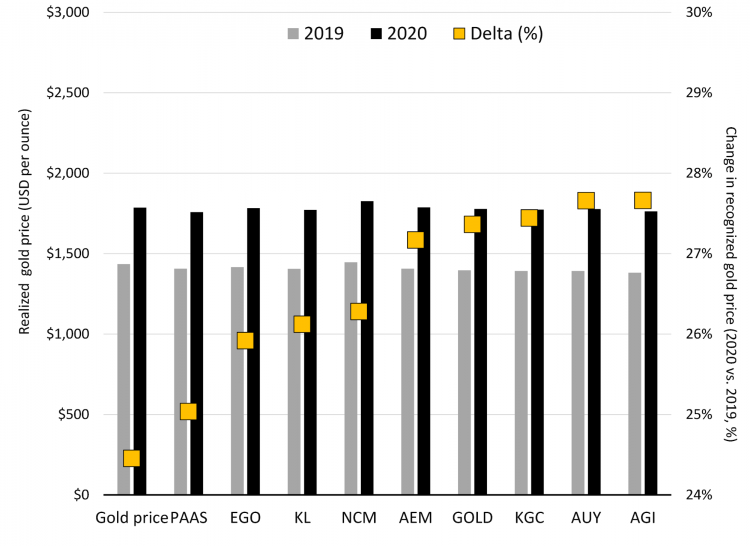 The free cash flow generated by the increase enabled many companies to add to their treasury while simultaneously lowering debt levels, (Fig. 6). The average net cash position of a selected group of 24 precious metal companies was negative US$88 million, with 40% having positive positions.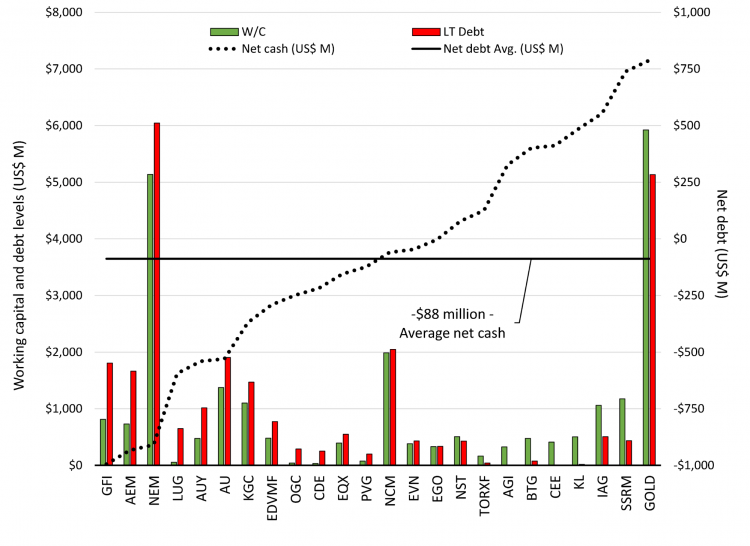 Conservative price assumptions filter through higher-margin assets
Part of the reason for the high level of cash flow generation is the margins. Although the gold price is up over 50% since a 2015 low, average gold prices used to calculate reserves are up only 15-20%, (Fig. 7).
In 2015, the difference between the actual and reserve gold price was <US$10 per ounce, whereas it currently sits at US$400 per ounce and higher for some majors that use a reserve price of US$1,250 per ounce.
Gold prices used to model resources (Measured, Indicated and Inferred) tend to be less conservative. In 2015, they were US$200 per ounce higher than the actual gold price. Currently, the assumption is about US$300 per ounce lower.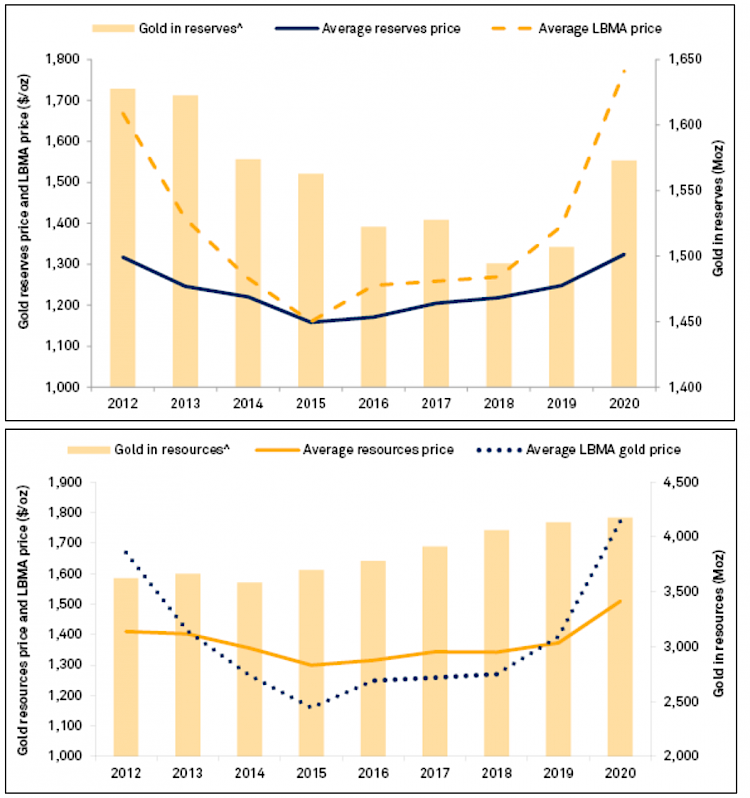 Investors still didn't care
Although most precious metal producers generated enough free cash flow to pay down debt and increase dividend payouts, on average, these same companies did not outperform the gold price in 2020 and are down 15-20% in 2021 year-to-date, (Fig. 8).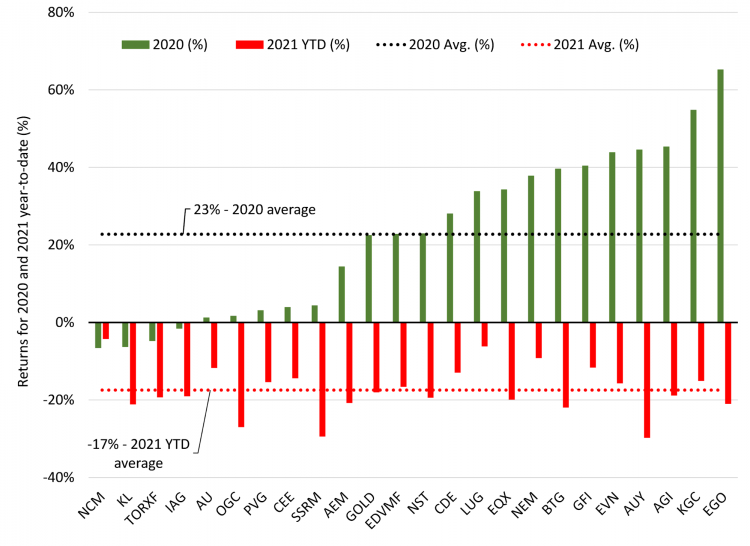 Funded junior gold explorers with catalysts may outperform producers
Yet, overall, given the amount of funds raised by junior companies over the past 15 months, junior explorers may have a window to outperform producers, (Fig. 9). Equity financing transactions directed to gold juniors flourished in the summer of 2020, while non-gold juniors tended to dominate the final quarter of the year (300 transactions, U$1.5 B).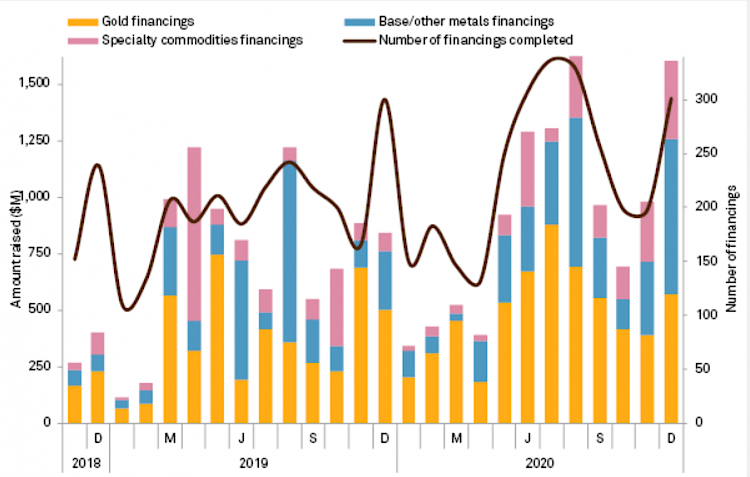 The funds have enabled juniors to finance exploration programs and other catalysts for the next field season. The vast majority of companies generating drilling results have gold assets since this type constitutes 75-80% of a total ~270 distinct projects, (Fig. 10). The Exploration Insights' portfolio current open positions are no different and weighted towards non-cash flowing precious metal juniors, most of which are well funded for their next round of catalysts.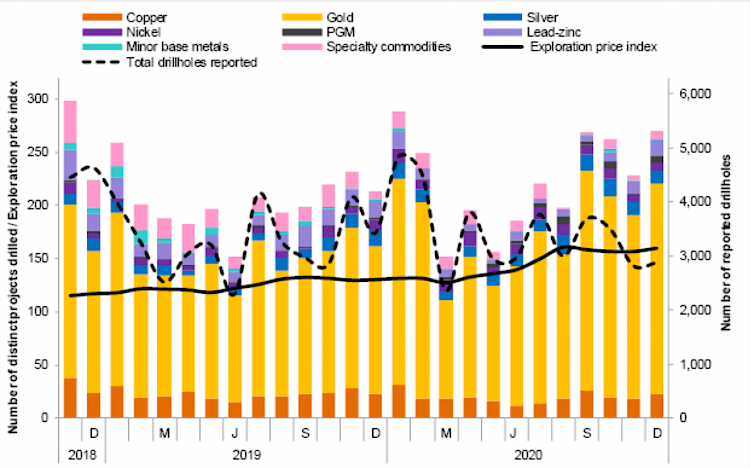 The market's concerns about inflation and the impact on bond yields may continue to weigh on precious metals and their producers. If the market continues to push down the share prices of companies with quality assets, I may consider adding new positions, similar to this time last year.