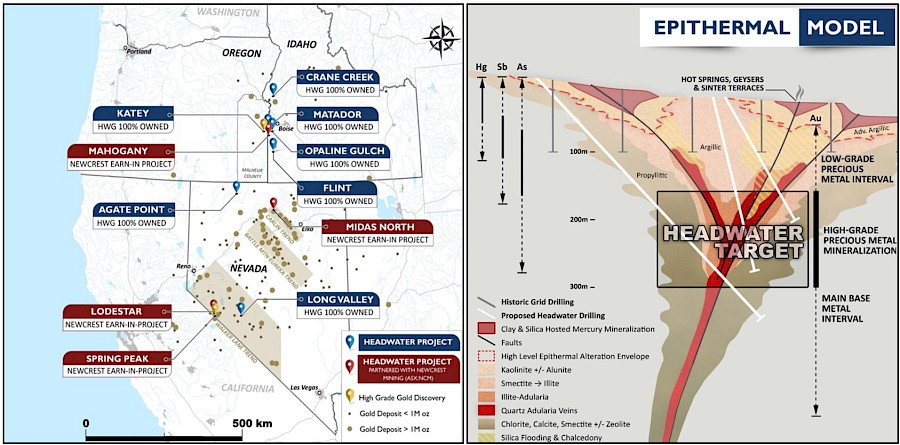 Site visit to Headwater Gold's portfolio in the Southwest USA
by Joe Mazumdar
July 4, 2023
Exploration Insights visited Headwater Gold Inc.'s portfolio of low sulfidation epithermal (LSE) vein-style projects in western Nevada and along the Oregon and Idaho border.
Headwater Gold's target is to discover low-tonnage but high-grade precious metal LSE deposits suitable for acquisition by producers. The exploration model focuses on surface expressions of the system, such as sinter terraces and geysers, which are controlled by structures. These structures are interpreted to host high-grade precious metal mineralization at the "boiling zone", which can be over 150 meters below the surface.
Its projects are divided between the Walker Lane Trend of southwestern Nevada (Spring Peak and Lodestar) and a region of northern Nevada to southern Oregon/Idaho (Midas North and Mahogany).
I added the grassroots junior explorer to the portfolio after the company managed to mitigate a significant portion of the financing risks, typically associated with a non-cash flowing junior, by completing an important earn-in agreement with a major producer - Newcrest Mining - for most of its assets.
Newcrest can earn a 65% stake in all projects by investing US$145 million over 8-9 years, with a minimum expenditure of US$10 million over the next 2-3 years. The delivery of a pre-feasibility study (PFS) is required to add an additional 10% to 75%.

The Walker Lane Trend, which hosts their Spring Peak and Lodestar prospects, is underpinned by a hundreds-of-kilometers-long strike-slip fault, sub-parallel to the San Andreas fault system.
The LSE precious metal occurrences linked to the trend are thought to be primarily controlled by north-northwest trending strike-slip faults and north-south trending extensional faults that splay off the major structure.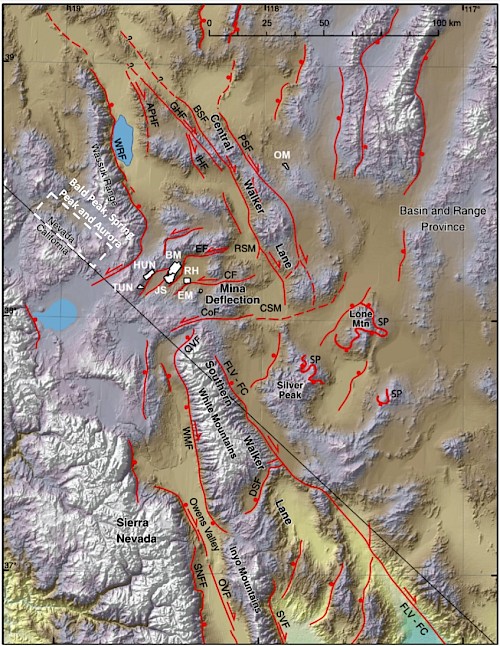 The western boundary of the trend follows the eastern edge of the Sierra Nevada range, a large rigid batholith block that, in places, defines the border with California.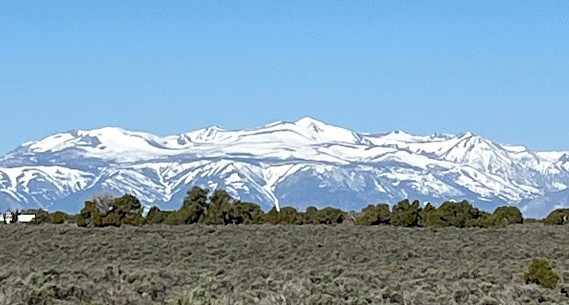 The Spring Peak and Lodestar properties, which constitute most of Newcrest Mining's committed expenditures over the next 18-24 months, bookend the Aurora Vein System to the south and north, respectively. Hecla Mining Company operates the shuttered Aurora Mine, which, historically, produced 1.9 million ounces of gold and 20-21 million ounces of silver.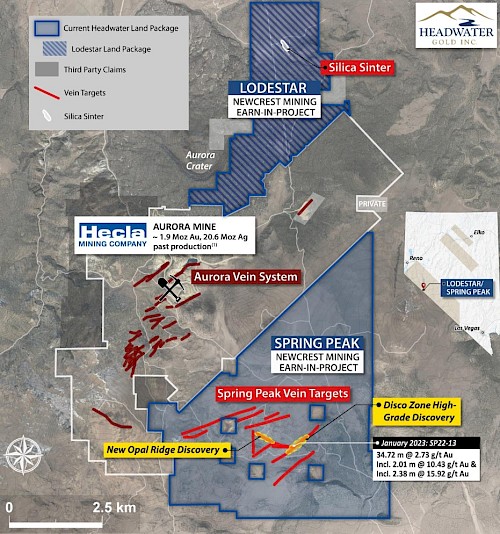 The junior grassroots precious metals explorer announced plans to drill up to 11,500 meters at the Spring Peak prospect in 2023, where scout drilling in 2021 discovered the Disco Zone (38 m grading 1.0 g/t Au, SP21-03) and follow-up drilling in January 2023 intersected up to 2.38 meters grading 15.9 grams per tonne gold from a vertical depth of 250 meters or more (SP22-13).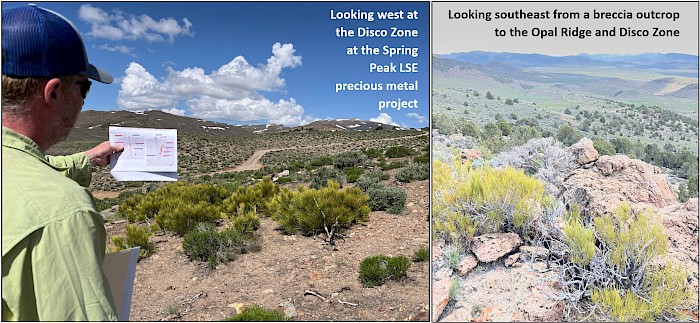 A few hundred meters west, the Opal Ridge prospect hosts a ~5-meter thick sinter with textures indicative of geysers, suggesting a well-preserved system.
Drilling beneath the sinter (>200 m) revealed textures associated with an epithermal system 'boiling level' where precious metals precipitate, such as bladed textures resulting from the replacement of carbonate crystals by silica. Illite alteration and late hydrothermal breccias also support the exploration model, indicating a multi-episodic history and fertile system.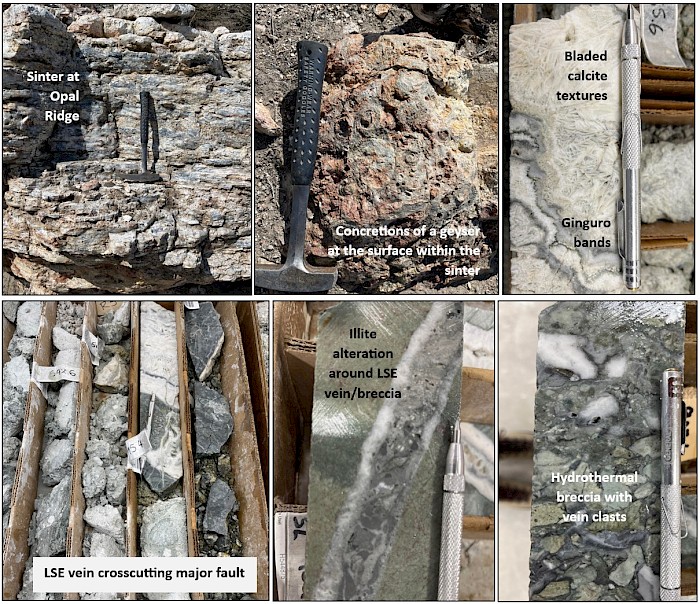 The other LSE prospects I visited (Midas North, Mahogany, and Katey) are associated with structures generated by a chain of calderas formed over the past ~17 million years from Nevada to Montana as the North American plate moved southwest over a stationary magmatic 'hotspot'.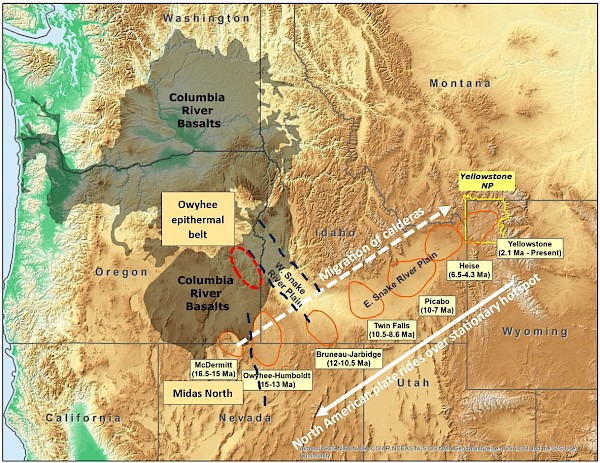 The Northern Nevada Rift (NNR) is believed to be a deep crustal structure reactivated by hotspot magmatism, which is now interpreted to be an inclined thermal plume beneath Yellowstone National Park tracked to a depth of 500 kilometers below the surface.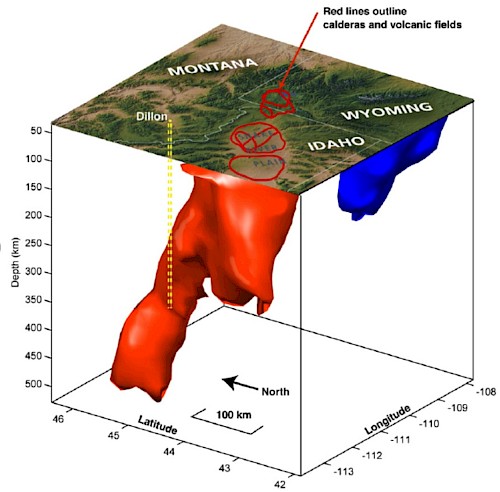 By applying thorough mapping and sampling, Hecla Mining has generated some exploration success in the NNR with its Green Racer prospect north of its Midas processing plant.
While an unseasonal amount of rain in Nevada painted the countryside with an attractive shade of green, it prevented me from accessing Headwater's Midas North project in northern Nevada, where the explorer plans to drill another 3,500 meters (8-12 holes) funded by Newcrest Mining starting in mid-August.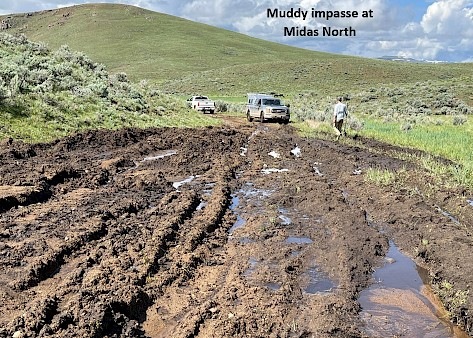 Heading north, the drive from Winnemucca to the Idaho/Oregon border passes east of the McDermitt Caldera, believed to be the first caldera generated by the hotspot about 16.5 million years ago. Interestingly, Lithium Americas Corp.'s Thacker Pass claystone lithium mine, which is currently in construction, is situated on the southern edge of the caldera.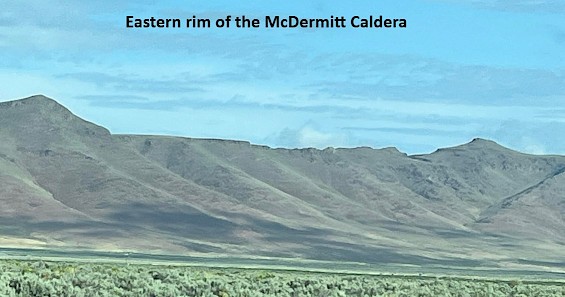 The Katey and Mahogany prospects, as well as the DeLamar project operated by Integra Resources and the Grassy Mountain project operated by Paramount Gold Nevada Corp. (NYSE American: PZG), are located within the Owyhee LSE belt, which may be associated with a deep crustal structure, north of the calderas that also generated extensive large basaltic flows, like the Columbia River (CR) Basalts.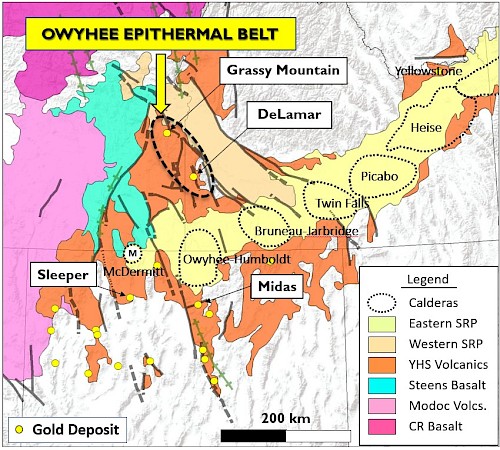 Headwater recently announced the start of a 2,000-meter drill program at the Mahogany LSE prospect, again fully funded by Newcrest Mining, to follow up on a drill hole from 2021 (0.7 m grading 9.37 g/t Au) that tested an area that returned rock ship samples with up to 170 grams per tonne gold and 53-54 grams per tonne silver.
Structurally, the LSE mineralization is controlled by the intersection of north-south faults, like the Main Ridge fault, with northwest-trending structures. The observed gold-bearing quartz veins, which cross-cut breccia zones near the intersection with the northwest-trending structures, suggest the potential for a more robust system at depth.
Overall, while the investing climate in the precious metal sector is not sunny, I continue to hold Headwater Gold as it is actively advancing several partner-funded precious metal LSE prospects and a strong treasury, which positions it well for plenty of drill-related catalysts in 2023.
If you want to follow the newsflow and catalysts of companies in the portfolio, such as Headwater Gold, while gaining a critical and independent perspective of major themes in the mining sector, consider subscribing to the letter.
See you in the field,
Joe Mazumdar