Events We are Attending
Upcoming Events
Chile Explore Congress 2023, Santiago, October 11-12
49th Annual New Orleans Investment Conference, November 1-4, 2023
Not since the 1970s has the world faced such a formidable and uncertain investing environment. The risks — and opportunities — facing us today are decades in the making.
And just in time comes a blockbuster event…a gathering that will be talked about for years to come…showing investors how to navigate the turbulence ahead.
It's all happening at the 49th annual New Orleans Investment Conference, being held from November 1-4 in the heart of all the music, food, and fun of "the city that care forgot."
Past Events
2023 Precious Metals Summit Beaver Creek, 2023, Beaver Creek, Colorado, September 12-15
VIII Encontro de Executivos do Setor Mineral Brasileiro, Brasilia, August 15, 2023
At this ADIMB event, Joe will be providing a presentation on the critical minerals market and Brazil's potential role in it.
THE Event, Quebec City, June 19-21, 2023
Joe will be a speaker at Canada's Only Tier 1 Mining Conference. Save the Date for THE Event! Canada's invitation-only Tier 1 Conference for Mining Companies, accredited investors, institutions, and funds. Showcasing the best of Canadian mining to a global audience. Featuring a mix of exploration, development, royalty companies, and producers representing all commodities. THE Event will also feature keynotes and panels with well-known industry thought leaders.
Metals Investor Forum Vancouver, Rosewood Hotel Georgia, May 26 - 27, 2023
Rick Rule's Electric & Battery Metals Bootcamp, April 29, 2023, 8:00AM - 4:00PM PDT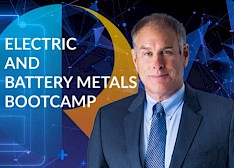 Joe and Brent are invited speakers to this novel event. Get ready for one whole day of disruptive ideas and ground-breaking insights from the most revolutionary minds and reflect on what our world will look like fifty years from now. The event will provide you with:
A packed schedule
Diverse faculty
Practical information
1-on-1 Meetings
Meaningful connections
Extra content and recordings
Sign up today. Discounted price of US$99.00 available until April 29 ($199 price applies after April 29). Includes live access and unlimited, on-demand access to the recorded program at http://ruleclassroom.com following the event.
Planet MicroCap Showcase, Las Vegas, April 25-27, 2023
Brent will be a presenter.
Capital markets and project valuation for geoscientists, PDAC, March 4, 2023
One-day course that will offer an introduction to capital markets to anyone interested in the connection between corporate finance and mining. Attendees will also be given a hands-on introduction to cash flow models and the opportunity to evaluate a project quantitatively using NPV and present their opinion. With Joe, Dale Mah, VP of Corporate Development at Endeavor Silver (EDR.T, EXK.NYSE), Michael Gray, Partner at Agentis Capital, and Nicole Adshead-Bell, Director of Cupel Advisory.
121 Mining Investment, February 6-7, 2023, Cape Town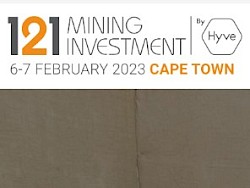 Joe will be a panelist on the Discovery Investing Panel on Tuesday (Day 2) at 9 and a judge at the Mining Investment Battlefield Heats at 2 pm.
Vancouver Resource Investment Conference, January 29-30, Vancouver Convention Centre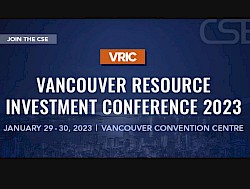 Brent will be keynote speaker on Monday (Day 2) at 1:40 pm and 2:20 pm.
Metals Investor Forum, 27-28 January 2023, Fairmont Pacific Rim, Vancouver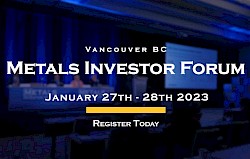 I will do a presentation at this event. Joining me will be Azimut Exploration (AZM.V, AZMTF.OTC), Elemental Altus Royalties Corp. (ELE.V, ELEMF.OTC), Orogen Royalties (OGN.V, OGNRF.OTC), and Western Alaska Minerals (WAM.V).
Deutsche Goldmesse, German Gold Show, November 18-19, 2022, The Westin Grand Frankfurt
Deutsche Goldmesse is Germany's premier investment conference, connecting European investors with top mining corporates in a range of commodities and stages.
Joe will be keynote speaker (details TBA).
Sign up today!
4th Annual Mining Investment North America, October 27-28, 2022, Toronto
New Orleans Investment Conference, October 12-15, 2022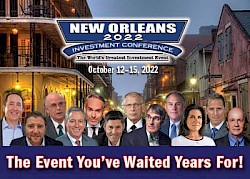 Brent will be joining Brien Lundin and many other sophisticated investors at the 48th instalment of this annual event. His presentation is titled "Accurate Observations and Inaccurate Conclusions--Interpreting Exploration News Releases in the Misinformation Age".
Sign up today!
GCFF Global Resource Investment Conference, September 24, Vancouver
2022 Precious Metals Summit Beaver Creek, September 13-16
Denver Mineral Exploration Summit 2022, September 16-17
Noosa Mining Investor Conference, Peppers Noosa Resort, Noosa Head, Queensland, Australia, July 20-22, 2022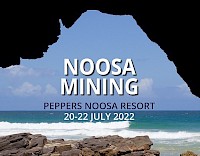 Brent will be presenting at this event on July 10.
The Noosa Mining Investor Conference is a highly valued and informative event now held twice a year at Peppers Noosa Resort on the top end of Queensland's beautiful Sunshine Coast. Designed to give investors, brokers, and fund managers a better understanding of current investment opportunities in the resources sector, the Conference is now considered by many as one of the 'must attend' events on the East Coast.
PDAC 2022, Metro Toronto Convention Centre, June 13-15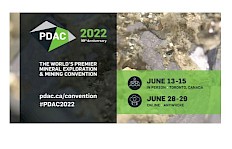 Joe and Brent will be participating.
PDAC: The World's Premier Mineral Exploration & Mining Convention is the leading convention for people, governments, companies and organizations connected to mineral exploration. In addition to meeting more than 1,100 exhibitors, 2,500 investors and 23,000 attendees in person in 2020, participants could also attend programming, courses and networking events.
The annual convention is held in Toronto, Canada. It has grown in size, stature and influence since it began in 1932 and today is the event of choice for the world's mineral industry. From 2021 it is also offered as an online event.
Metals Investor Forum Toronto, Delta Hotel, June 11-12, 2022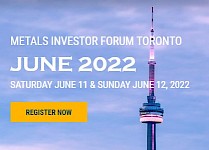 Joe and Brent will be presenting.
The Metals Investor Forum will be a high-value day for attendees. Each keynote speaker will give a short presentation outlining strategies for successful investment in current markets and providing insightful commentary on the exhibiting companies, all of which are followed by at least one of the newsletter writers.
We have also scheduled over two hours of complimentary catered lunch and coffee breaks to provide you with the chance to look the companies' management teams in the eye and ask them the tough questions yourself. Or chat with your favorite newsletter writer and learn more about the topics that matter to you.
2022 Vancouver Resource Investment Conference, Vancouver Convention Centre, May 17-18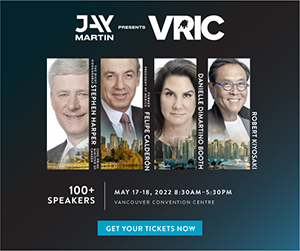 Jay Martin, CEO, Cambridge House will be hosting the ultimate financial masterclass, gathering world leaders, globally respected economists, and legendary money managers and investors to dive deep into the most important issues that we will face in the coming years.
Joe and Brent will be speakers:
Tuesday, May 17, 8:50 AM - 9:10 AM (PST), Speaker Hall, Favourite Stocks & Burning Questions in the Junior Mining Business - Rick Rule, Jeff Clark, Brent Cook, Moderated by Jay Martin
Tuesday, May 17, 10:30 AM - 10:50 AM (PST), Workshop 4, Tricks and Tips to Interpreting Exploration News - Brent Cook
Wednesday, May 18, 10:30 AM - 10:50 AM (PST), Workshop 4, Ticking Through the Investment Clock - Joe Mazumdar
Use promo code COOK for 50% off.
2022 GSN Symposium, Nugget Casino Resort, Sparks, Nevada, May 2-5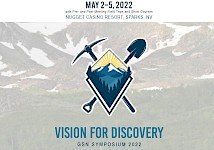 The Geological Society of Nevada will host its eighth symposium May 2-5, 2022, in the scenic Reno/Lake Tahoe region of northern Nevada. Symposia are held every five years and draw an international audience from the minerals industry, government, and universities. GSN symposia are the preeminent regional venue combining geology and exploration in the U.S. The 2022 theme, Vision for Discovery, emphasizes the goal of science to explore and make new discoveries in the Basin and Range province.
121 Mining Investment Las Vegas, March 30-31, 2022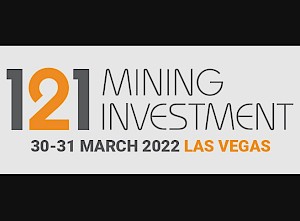 The inaugural 121 Mining Investment Las Vegas summit takes place on 30-31 March 2022. From historic mining on the Carlin Trend to new lithium mines feeding Tesla's Gigafactory, Nevada is at the forefront of mining in the US and remains the world's most attractive jurisdiction for mining investment. Several site visits to nearby projects are being organized to coincide with the event. And you won't just be meeting local Nevada projects. As attendees, you will have two days of 1-2-1 meetings with mining company management teams hosting growth stage projects from a range of TSX, NYSE, ASX, and private companies. Register for a free investor pass today.
Brent will be a keynote speaker onThursday, 31 at 11 am.
Swiss Mining Institute Online Forum - March 23-24, 2022
Swiss Mining Institute presents two major annual investment conferences per year. Each conference provides top quality, independent perspectives from experts within the Resources Sector together with presentations from 80 selected mining companies. Joe will be keynote speaker (more information TBA).
Metals Investor Forum, Rosewood Hotel Georgia, March 10-11, 2022
Red Cloud Financial Services Pre-PDAC Mining Showcase, March 4, 2022, 12:00 pm ET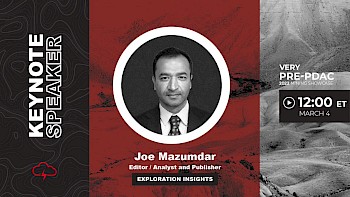 Join Joe at Red Cloud Financial Services' virtual Pre-PDAC Mining Showcase on Day 3. He will present as the keynote speaker this Friday, March 4 at 12 pm ET. Don't miss out, register here: http://ow.ly/YrAH50HXYum
AME Roundup - "Capital Markets for Geoscientists" Short Course, February 5, 2022 @ 9:00 am PDT - February 6, 2022 @ 2:30 pm PDT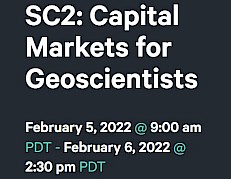 This course is presented by geologists who have extensive field work in addition to capital markets experience. It is a 10 hour course spread over two days and will offer an introduction to capital markets to anyone interested in the connection between corporate finance and mining. Attendees will be given the opportunity to value a project using a cash flow modeling and present their opinion. Zoom (Ticket Required). *note this course is not available on-demand
Speakers:
Price:
AME Members: $275
Non-members: $475
AME Student Members: $30
Top Mining Stock Picks with Brent Cook and Joe Mazumdar LIVE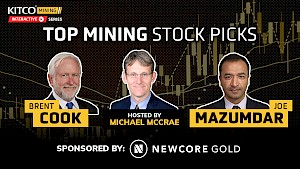 Looking forward to sharing our end-of-2021 Top Picks with Michael McCrae ofKitco Metals. Register today to interact with us via YouTube live on Tuesday, December 07, 2021 12:00 PM EST.
Swiss Mining Institute Investment Conference, November 2-4, online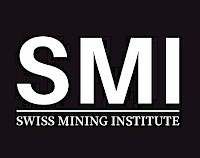 Joe will be keynote speaker at this annual event. Follow the link below to see the full program and register.
Mines and Money Online Connect, October 19-21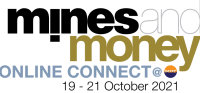 I will be one of the judges at Australia's IMARC 2021 Mines and Money Online Connect Mining Pitch Battle scheduled for October 20 at 3 pm Australian eastern daylight time. Watch junior and emerging mining companies go head-to-head in front of leading investors, pitching for feedback, investment, and prizes. With only 3 minutes to make your pitch, every second counts. Follow the link for details and to register.
2021 New Orleans Investment Conference October 19 – 22, 2021

True to its nearly five-decade tradition, the New Orleans Investment Conference is addressing all the major asset classes (with an emphasis on #preciousmetals and #mining at this crucial turning point), plus top-level analyses and forecasts for the economy and the geopolitical issues that drive it all.
Virtual Metals Investor Forum Vancouver, September 16-17, 2021
Join me along with Eric Coffin of HRA Advisories, John Kaiser of Kaiser Research Online, Gwen Preston of Resource Maven, Chen Lin of What is Chen Buying? What is Chen Selling?, Peter Krauth of The Silver Stock Investor for this exclusive event at the Rosewood Hotel Georgia in downtown Vancouver
2021 Precious Metals Summit Beaver Creek (Hybrid), September 8–11, 2021, Park Hyatt Beaver Creek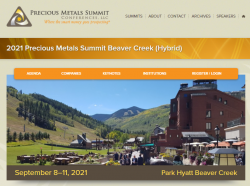 Precious Metals Summit offers the premier event that brings together the community of institutional investors, sell-side representatives and corporate executives from senior precious metals companies to meet and network with some of the most prospective producers, explorers and developers from around the globe.
The 2021 Precious Metals Summit Beaver Creek will be held as hybrid event, combining both physical and virtual participation.
Join me. Qualified Investors are invited to submit an application to register using the following link: Apply for Registration Here!
Gold Events VIRTUAL GOLD CONFERENCE - April 29th, 2021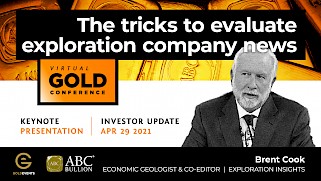 The Virtual Gold Conference, in association with ABC Bullion, will help you learn about the big macro picture from our keynote speakers as well as presentations from ASX listed mining companies with news to share so you can make better investing decisions. Brent will be presenting at 12:00 pm AEST "Evaluating exploration company news releases, tricks of the trade"
MONEY, METALS, & MINING VIRTUAL EXPO, APRIL 20 - 22, 2021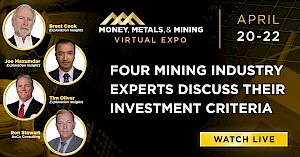 WEDNESDAY, APRIL 21, 2021 - 4:30 PM TO 5:10 PM EDT - FOUR MINING INDUSTRY EXPERTS DISCUSS THEIR INVESTMENT CRITERIA
When you've spent most of your career immersed in a particular field - in this case, the mining sector - you develop a spidey sense about which under-the-radar gems have the potential to become home runs. This panel of established mining experts with decades of experience (Joe, Brent, Tim Oliver, and Ron Stewart) will discuss the critical things they look at when making an investment decision and some of the fatal flaws. Each of them will pick one company that meets their criteria and explain why. The insights you will gain from this session will help you develop a skill set that enables you to make maximum profits while minimizing losses when investing in this high-reward, but sometimes, high-risk sector.