Issue No. 695 – November 22, 2022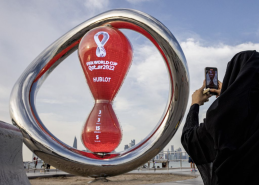 The FIFA World Cup began this weekend in the small Middle Eastern nation of Qatar, but it will be as dry as the desert where it is hosted, as alcohol has been banned in the stadiums.
In the Weekly Market Digest, the jump in US monthly retail sales prior to the holiday season suggests that inflation may return in the last quarter of the year, pushing up interest rates, more in line with analysts' forecasts.
Most commodities, except natural gas and coal, reacted negatively to the fears of a global recession combined with a resurgence of COVID-related restrictions in China.
Nuclear energy got the spotlight in Europe and Japan as both countries seek to reduce their exposure to higher input costs related to hydrocarbon-sourced energy. On a different note, a major diversified miner (BHP) closes a deal to acquire an intermediate copper producer (OZL.ASX).
The Exploration Insights portfolio was down modestly but outperformed the resource equity indices due to excellent drill results from a CRD-style polymetallic target being tested by a Nevada-focused explorer/developer. Also in Stock Talk:
A palladium-copper development project signs a CBA with the local native group.

A nickel developer in Vietnam advances its process flowsheet for its downstream refinery.

A silver explorer in Mexico continues to find high grade shoots of mineralization.

A DRC-focused gold explorer upgrades a permit on a multi-million-ounce deposit.

A copper explorer in southern Spain delineates a new target from its recent geophysical survey.

Finally, a US-based uranium producer divests an ISR plant in Texas to fund its plethora of growth options.