Issue No. 705 – February 5, 2023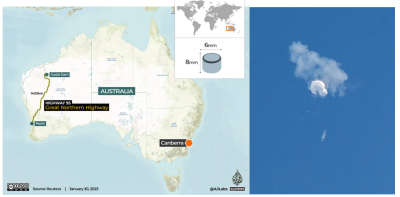 Over the past week, we were transfixed by the search for a 'pea-sized' radioactive object in Western Australia and the trajectory of a Chinese surveillance balloon over the US. The former was found, while the latter was shot down over the Atlantic Ocean.
In the Weekly Market Digest, the US equity markets bounced back at the end of the week on news that the unemployment rate had fallen to a half-century low after the Fed decided to moderate interest rate hikes from 50 to 25 bps. However, the stronger-than-expected labor market suggests that the Fed will not be diverting from its tight monetary policy anytime soon; therefore, most commodities and the equities levered to them fell.
Consequently, the Exploration Insights Portfolio was down modestly, weighed down mainly by precious metal companies. I have added links to presentations and interviews, including those by some of the portfolio companies, from various conferences that took place in Vancouver last week.
In Stock Talk, two precious metal companies focused on the western US raised funds through the equity and debt markets to fund their 2023 plans. Welcome newsflow from a grassroots explorer in Mexico regarding metallurgical results from its partner, a major silver producer. A major US car producer announced a significant funding deal with a lithium project in Nevada that may have implications for a nickel project in Vietnam. Finally, I expand on a silver/base metal explorer's plans for Alaska.