Issue No. 687 – September 25, 2022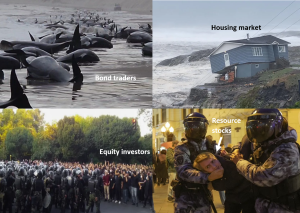 The Chairman of the US Federal Reserve brought the hammer down on the market, generating much angst for investors, who are being forced to adjust to the new 'normal'.
In the Weekly Market Digest, although the 75 bps interest rate hike was expected, the prospect of a longer period of higher rates was not. Higher market volatility and a stronger USD accurately reflected the mood of most investors.
The Exploration Insights Portfolio was down last week, in line with most resource equities, with the major underperformer reporting results from a pair of highly anticipated drill holes that fell below market expectations, while the best performer welcomed a major diversified miner as a shareholder.
In Stock Talk, a Top Pick copper explorer in Arizona keeps generating high-grade results while a royalty generator has another cash-flowing royalty coming online. Finally. I also sift through several encouraging, albeit not compelling, drill results from Finland, Quebec, Mexico, and Alaska.