Issue No. 680 – August 8, 2022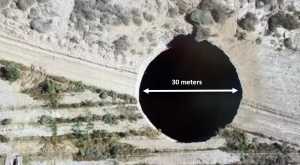 A giant sinkhole — big enough to fit the White House — opened up in northern Chile last week. The US administration would probably prefer it to contain the Speaker of the House, given her ill-timed visit to Taiwan, which raised the tension in its fragile relationship with China.
In the Weekly Market Digest, the US jobs report surprised on the upside, suggesting that the Federal Reserve can continue raising rates. China's demand for high-tech products has declined in 2022, reflecting the negative economic impact of the Zero COVID-19 policy, which has also affected commodity prices.
More M&A in the base metal sector as a major diversified miner (BHP) takes a swipe at a mid-tier producer (OZL.ASX). The Exploration Insights Portfolio was marginally positive last week, and the returns were bookmarked by a pair of grassroots copper explorers in Zambia and Peru.
In Stock Talk, I am buying a junior explorer with a potential CRD discovery in Alaska. I take a deep dive into a Top Pick's second quarter results. A gold developer and explorer in Nevada hit another top 10 intersection. A nickel developer in Vietnam updated its development plans, and a palladium-copper developer in Ontario advanced its permit. Finally, a royalty generator updated the economic valuation of a gold project in southwestern Mali.