Rick Rule's Electric & Battery Metals Bootcamp, April 29, 2023, 8:00AM - 4:00PM PDT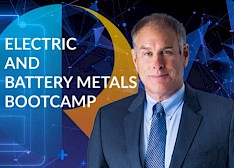 Joe and Brent are invited speakers to this novel event. Get ready for one whole day of disruptive ideas and ground-breaking insights from the most revolutionary minds and reflect on what our world will look like fifty years from now. The event will provide you with:
A packed schedule
Diverse faculty
Practical information
1-on-1 Meetings
Meaningful connections
Extra content and recordings
Sign up today. Discounted price of US$99.00 available until April 29 ($199 price applies after April 29). Includes live access and unlimited, on-demand access to the recorded program at http://ruleclassroom.com following the event.