Metals Investor Forum Toronto, Delta Hotel, June 11-12, 2022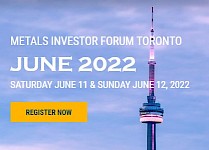 Joe and Brent will be presenting.
The Metals Investor Forum will be a high-value day for attendees. Each keynote speaker will give a short presentation outlining strategies for successful investment in current markets and providing insightful commentary on the exhibiting companies, all of which are followed by at least one of the newsletter writers.
We have also scheduled over two hours of complimentary catered lunch and coffee breaks to provide you with the chance to look the companies' management teams in the eye and ask them the tough questions yourself. Or chat with your favorite newsletter writer and learn more about the topics that matter to you.