2021 Precious Metals Summit Beaver Creek (Hybrid), September 8–11, 2021, Park Hyatt Beaver Creek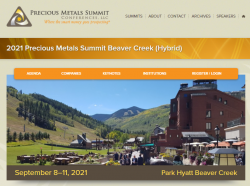 Precious Metals Summit offers the premier event that brings together the community of institutional investors, sell-side representatives and corporate executives from senior precious metals companies to meet and network with some of the most prospective producers, explorers and developers from around the globe.
The 2021 Precious Metals Summit Beaver Creek will be held as hybrid event, combining both physical and virtual participation.
Join me. Qualified Investors are invited to submit an application to register using the following link: Apply for Registration Here!